ACS712 Current Sensor Module – 5A
ACS712 Current Sensor Module – 5A
80kHz bandwidth
66 to 185 mV/A output sensitivity
Low-noise analog signal path
Device bandwidth is set via the new FILTER pin
1.2 m? internal conductor resistance
Total output error of 1.5% at TA = 25?C
Stable output offset voltage.
Near zero magnetic hysteresis

Safe shopping
Your data is always protected
17
People watching this product now!
Pick up from the Store
Everyday from 9 AM to 7 PM
ARAMEX DELIVREY
ACS712 Current Sensor Module – 5A
The ACS712 is a fully integrated, hall effect-based linear current sensor with 2.1kVRMS voltage isolation and a integrated low-resistance current conductor. Technical terms aside, it?s simply put forth as a current sensor that uses its conductor to calculate and measure the amount of current applied.
80kHz bandwidth
66 to 185 mV/A output sensitivity
Low-noise analog signal path
Device bandwidth is set via the new FILTER pin
1.2 m? internal conductor resistance
Total output error of 1.5% at TA = 25?C
Stable output offset voltage.
Near zero magnetic hysteresis
applications:
Motor speed control in motor control circuits
Electrical load detection and management
Switched-mode power supplies (SMPS)
Protection for over-current
2D Model and Dimensions: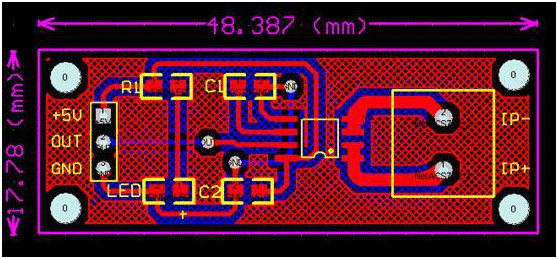 Package Includes:
Product Datasheet:
Related Products: